Invoices are an essential part of doing business. You need to let your clients know how much they need to pay and what they're being charged for, no matter what type of small business you own. We offer a free sample invoice template. You can try out our templates and create an invoice that's right for your business.
Download sample invoice template
Before we dive in, try out our online invoice generator today and create a free sample to see how it works. You're going to love the invoice you create.
Both examples on this page highlight what a professional, complete invoice may look like.
How to Make a Good Invoice – What it Should Include
Your invoice should represent your business and should include your logo as well as relevant information for your business. Use the invoice examples on this page as your baseline, or download your own copy below.
The invoice should also be easy to read and easy for the client to determine what they need to pay and how they can pay it. The cleaner the invoice looks, the easier it is for customers to find the information they're looking for.
In your invoice, make sure you separate different parts of your work into appropriate topics so the client can easily see what they're paying for and how you came up with the total. You should also include the total, any payments made, and the amount they still owe.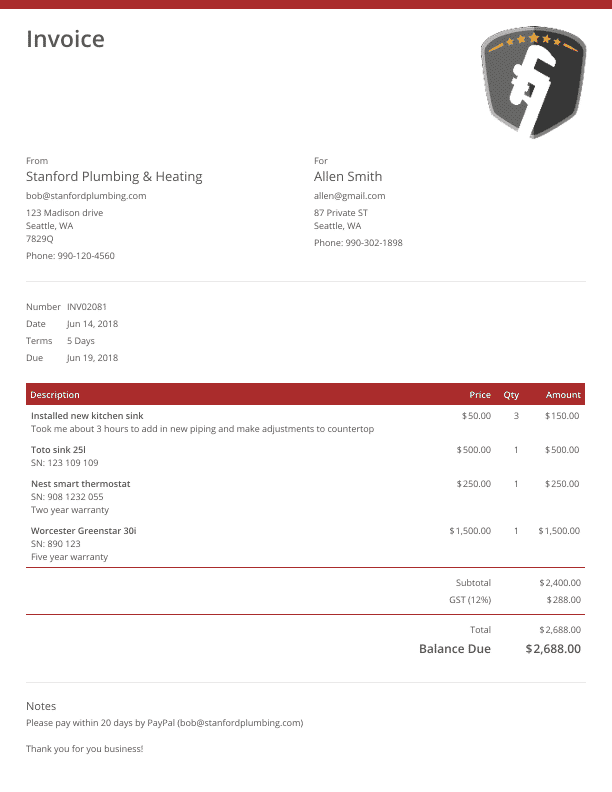 It's a good idea for you to include methods of payments you accept as well as any information they'll need to use their preferred payment method. You'll want to let them know when the payment is due to help make sure they'll pay the full amount on time. The easier it is for them to read and understand, the more likely it is you'll be paid quickly for the work your business has done.
Options When Creating Your Invoice
Using our online invoice generator, you can easily create an invoice template to try out today. You'll need your logo as well as the information you want on the invoice. Then, you can simply go through the template and fill in your information, choose the right color, currency, tax options, and more. This enables you to see how easy it can be for you to customize your invoice for your business and make sure it looks good.
If for some reason you're not interested in the online tool, then feel free to visit our templates page to see a fill list of available templates and file formats.
Try Out a Sample Invoice Template
Go ahead and try out a sample today to see how easy it can be for you to create the perfect invoice for your business. No matter what your business is, you'll be able to choose the right options to have the invoice include what you need for your business. We provide all of the options you might need in the free sample to get a good idea of how a custom invoice could look for your business.
Download sample invoice template
The button above will take you to Google Sheets where you can view the sample invoice. From there select 'File -> Make a copy' to get your own editable version.
Completing your example of an invoice
Both of the invoice examples on this page — and the downloadable sample invoice template — show you what a professional invoice can look like. But these are just examples of an invoice; you'll still need your own touch. The most basic invoice should include:
A unique invoice number

Your complete information — name, address and phone number

Customer's complete information — name, address and phone number

List of products or services provided — including cost & taxes

Payment terms and instructions
Our invoices are perfect for just about any small business. If you'd like to create an invoice specifically for your business, make sure you try out a sample invoice template or start with a blank invoice today.