Whether you've sent out many invoices before, or you're working on writing your first, it's important to know how to write an invoice properly. There are many different sections and missing one may leave you looking unprofessional.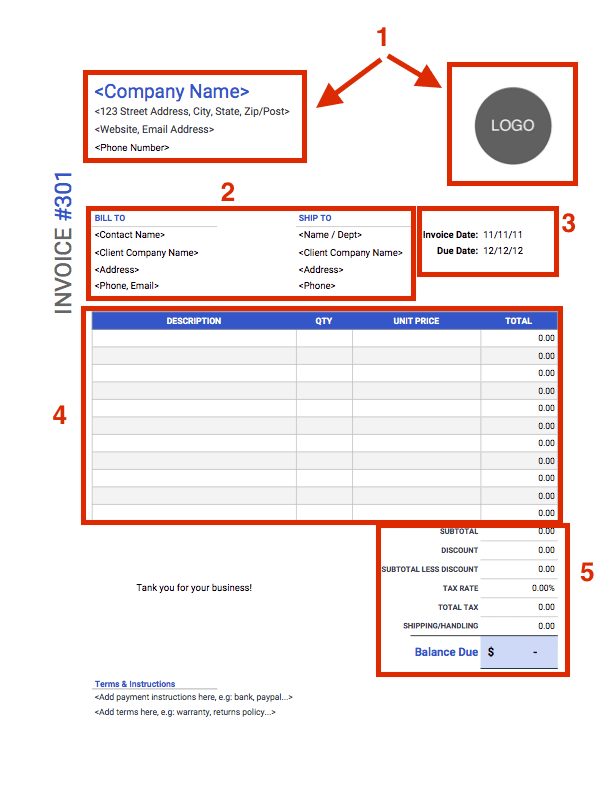 Please keep in mind that we've used Invoice Simple as our guide, but the steps should stay pretty consistent no matter what invoice software you use.
If you first need clarification on what an invoice is, then read this. If you prefer to work on a template file rather than our online invoice generator then pay a visit to our free templates page.
While writing an invoice is a good sign for your business, it can certainly begin to feel a bit tedious. After awhile, you might find yourself feeling as though you're spending more time filling out invoices than you are actually doing the work you're getting paid for.
This is why it's so important to have a super simple invoicing software like Invoice Simple –– which allows you to spend less time being an accountant and more time doing the work you love to do.
How to write an invoice
Step One: Personalize and make your invoice professional
To begin, choose a color that best represents your brand and upload your brand's logo. This will give your invoice a professional and personalized feel. Lastly, you might want to modify what's in the 'invoice' box. If you call your invoices something else (e.g: bill, porforma, receipt), otherwise leave it as is.
Step Two: Fill-out the appropriate contact information on your invoice
This step is fairly straightforward but one that is often overlooked when writing an invoice. Include the contact information of who the invoice is going too, as well as who it is coming from. This includes the name, email, address and phone. If you have a business number, include it too. This is yet another way to help you write invoices that look and feel professional.
Step Three: Select a due date on your invoice
Invoice Simple prides itself in making the invoicing process easy for you. So, in this section, all you have to do is click the box next to "Due". Then select the date you would like the invoice paid. From there the terms will automatically fill in. In addition, both the invoice "Number" and "Date" take care of themselves as well.
If you've sent out invoices before (for example using one of our invoice templates) then adjust the invoice number here to match your current sequence.
Step Four: Fill in the projects/ tasks you are invoicing the client for
While we are almost done showing you how to write an invoice, be sure to pay extra attention to this section because it's arguably the most important. Clients like to know exactly what you're billing them for… so more detail here is better than less. Give a crisp clear description of the service or task. For example: "Social Media Marketing Management for July". From there, type out a 1-3 sentence description reminding the client what your work entailed.
Then fill in the price and the quantity –– the quantity will vary depending on whether you are charging hourly or by project. You'll also want to check or uncheck the box under "tax", depending on whether or not you're including taxes.
And, finally, you can fill in some additional comments at the bottom for more detail –– this a great place to say thank you to your client for the opportunity to work with them.
Step 5: Add any appropriate tax or discount information to your invoice and then share it with your client
If you decide to add taxes or discounts to the services, you can do so in this section. Though, this is of course optional. From here, choose to share the invoice. You can share the URL, download it as a PDF, print it or simply email it to your client.
Do you have anymore questions about how to write an invoice? If so, please feel free to send us an email at hello@invoicesimple.com. If not, start creating your invoice here.